One Athletes Journey through Soma
Tell a little bit about yourself:
I am a gymnastics coach and crossfitter. I love and live to be active. I have a 28 degree curve in my spine.
Why did you choose to experience SOMA NEUROMUSCULARINTEGRATION®?
I was constantly dealing with back and rib pain, and had been told that I would need to get surgery if I wanted to continue doing crossfit at the level I am.
How has the Soma Series impacted you and your life?
I went from being in pain all the time to never being in pain. It allowed me to continue doing what I love to do, and it gave back one of the most important things to me. It changed my life.
Was this work different than massage?
Yes.
Would you recommend this work to family/friends?
Definitely.
Photos through the process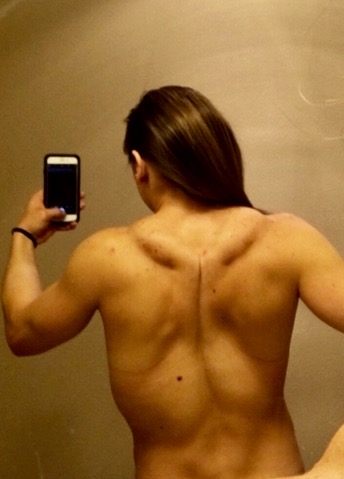 Before Starting the Series
Before Soma Series Session 1(Some Treatment sessions)
After Soma Series Session 11
In her own words, her story:
I know that a lot of us know how it feels to be losing hope... if you're familiar with that feeling, you will understand the kind of gratitude I have towards this shout out.
I love to be active-- I honestly feel like I HAVE to be active to be Kelsey. When I found Crossfit, it felt like I stumbled across the biggest life blessing and everything made sense there. It was inevitable for me to fall in love with the sport, and it didn't take long for me to know that I wanted to grow in it as much as I possibly could... push my limits and find out what I can do.
Unfortunately, about a year and a half into Crossfit, I found a physical limit. After repeatedly dealing with back and rib pain, I went on a quest to find out the problem. Turned out I had moderate-severe scoliosis, consisting of a 28 degree curve in my S-shaped spine and a rotation that was causing some constant pressure on my right rib cage. This pressure caused my ribs to move around pretty aggressively, not allow me to have full lung capacity, and could potentially puncture an internal organ. So needless to say, I was really uncomfortable. Like couldn't breathe uncomfortable.
So I had to step away.
Stepping away from Crossfit falls under the top three things I would do anything to not have happen in my life. I know it sounds dramatic, but that's truly how I feel.
I'll spare you the hell and angst I went through during that time, cuz there's no need to dwell😉
Two weeks before the opens last year (about 15 months ago), I didn't think I would be doing the opens.
Then about a week later, I went into Massage Envy on a really bad rib/back day. They got me an appointment with the next available person, and he changed my life for me.
This person that I seriously call magical, is Carlos Cruz. He literally reconstructed my body with his hands over the course of 11+ (ongoing) sessions. I was told many times that I would need surgery if I was even dreaming of being as active as I wanted to be. I was basically told I couldn't escape this condition without getting a rod put in my back.
Well thanks for changing my life Carlos and giving me back what I feel like I needed the most. Thank you for taking a chance on me and doing what others said couldn't be done. And THANK YOU for being you. You just want to help people feel better and do what they love to do.
Carlos was there for me every single day of regionals folks, asking for nothing in return. He fixed me up before and after each day, so I could perform the best I physically could without having to stress about my ribs or back giving me hell. He changed the game for me, and I feel like I owe him everything for that.
If you have any structural or just pain issues, PLEASE ask me anything about the process I've gone through. To me, it's a miracle and I would want anyone and everyone to experience it.
Below are some pics of what USED to happen to my back and ribs. The bottom right is more recent, showing how my muscles actually work together now and much more symmetrical, rather than fighting each other. Thank Goodness. ❤
Thank you to Kelsey, for allowing her pictures and changes to be shown.
With only a few months of serious training Kelsey was able to make it to the 2017 Crossfit Western Regionals placing in 23rd in her first showing. Kelsey is currently gearing up to start training for the next years Crossfit Games. You can find out news her and her gym Crossfit Acro here.
For more information on the Soma 11 Session Series find more here.